Lightbox is a dynamic, interactive non-fiction resource for preK and elementary aged students. Books for younger students include read-aloud options, or you can skip the read-aloud and advance pages at your own pace. These books also include interactive maps, videos, and links to related websites embedded right into each book.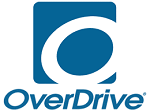 Read-alongs are OverDrive Read ebooks with professionally recorded narration that plays along while you read. To get started, click or tap the Read now in browser button for a borrowed read-along ebook. The book will open in a new tab in your web browser.  Then, select Start narration at the bottom of any page to begin the audio from the top left. Many read-along ebooks will highlight words, sentences, or paragraphs as the narrator reads them, so you can follow along. Pages automatically turn when the narrator reaches the end of the page. If you'd like the narrator to repeat any word, sentence, or paragraph, simply click on the word you'd like to hear again. You can also turn back a page, and the narrator will begin reading from the top left.

TumbleBooks are animated, talking picture books which teach kids the joy of reading in a format they'll love. TumbleBooks are created by taking existing picture books, adding animation, sound, music and narration to produce an electronic picture book which you can read, or have read to you.